Podcast: Play in new window | Download
Be part of the wedding conversation with Robert and Holli.  In this episode you will hear all about the 6th Season Say Yes to the Dress and Kleinfeld's 70th Anniversary party, beauty products and royal wedding details, two new bridal collections, David's Bridal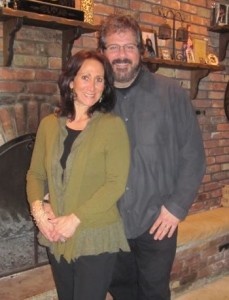 "What's On Bride's Minds" survey, The 21st Century Bride educational event and Wish Upon a Wedding.
BrideFinds is a must read blog and shopping guide that features fashion, accessories, shoes, decor and more.  Do you have breakouts, wrinkles and/or sun spots?  Editor Justine Ingersoll reviews five products for flawless wedding day skin.  Plus hear some scoop about Kate Middleton's royal wedding.
Bridal fashion news introducing White by Vera Wang exclusively at David's Bridal and BHLDN, Anthropologie's online wedding boutique.  Vera Wang is now able to bring clothes to women she could never dress before.  The collection showcases her signature feminine detailing at an attainable price point.  Are you a nostalgic romantic, a lady with a twist, a neo-sophisticate, or la bohémienne?  Look no further – BHLDN is for one-of-a-kind you.
Wedding dreams do come true at Wish Upon a Wedding (WUW), the world's first non-profit wish granting organization providing weddings and vow renewals for couples who have faced terminal illness or other serious life-altering circumstances.  We interview Candice Benson, President NJ/Metro NY chapter and Mark Kingsdorf, President Philadelphia chapter at their launch parties respectively at the lavish Estate at Florentine Gardens in River Vale, NJ and  Top of the Tower in Philadelphia.
Are you a novice, established or aspiring wedding professional?  The 21st Century Bride educational event is Monday, March 28, 2011 at The Landmark in NJ and live video stream online anywhere in the world.  Meet the Speakers on our blog.  Use special discount code WPN1 when registering.
Websites we talked about:
7 Ways to Kate Middleton-Ify Your Wedding
Kleinfeld's 70th Anniversary Party
The Estate at Florentine Gardens