Podcast: Play in new window | Download

Visions of tulle, sequins, ruffles, beading and lace.  Brides have hundreds of options when seeking for their dream wedding dress.  Anne Chertoff, Editor in Chief and Erica Sigel, Fashion Editor of aisledash.com AOL's wedding planning website, join Holli Ehrlich, co-founder Wedding Podcast Network to discuss the introductions and trends featured at New York's Bridal Market.  Anne and Erica, consummate wedding professionals, share candid advice and suggestions when searching for the gown, shoes, and accessories for your wedding day ensemble.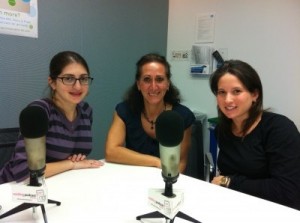 This season offers embellished bodices paired with simple skirts, asymmetric or deep V necklines, jeweled belted and ballgown showstoppers with texture and layers of fabric.  Designers are talented and creative offering a wonderful variety for every type of bride from traditional to fashion forward.  What really stood out this season for brides and the bridal party?  Long or short?  To veil or not to veil?  What silhouettes flatter the figure?  How important is the detail on the back of the dress?  What styles are beautiful and budget friendly?  How much does the red carpet influence bridal fashion and how can you adapt it for your walk on the white carpet?  These questions are answered plus hear smart dress and shoe shopping tips and learn about exciting new resources.  Anne & Erica understand today's bride and want you to enjoy the process.  Their bona fide knowledge and industry experience will help you achieve your best look for your wedding day.
twitter:  @aisledash
Visit aisledash.com's Designer Wedding Dress Galleries & Runway
Must read posts on aisledash.com:
17 Must Read Wedding Dress Shopping Tips
Wedding Fashion Inspiration from the 2010 Emmy Awards
Ways to Save on Your Wedding Dress
15 Wedding Dresses for $1,500 or Less
Off-the-Rack Wedding Dresses fro Less than $200
Belted Wedding Gowns Just like Chelsea Clinton's
Bridesmaid Dress Shopping Tips
Vera Wang Archives Previews Past Designs
Designers we talked about:
And more….

a.b Ellie beaded belts & sashes
Anthropologie (launches Spring 2011)